I'm back!!!!
Yes, you guessed it; this is Clara Oswin Oswald reporting for blogging duty. Many of you peeps may remember that my last post was very negative, with good reason. However, I thought to change things up a bit and give you my positive thoughts on a book: Fairest by Marissa Meyer. I started reading this book with rather low expectations. I should point out that Keira Cass ruined companion Novels for me. You know who I'm talking about– the authoress who couldn't think of a new idea after her original series, and so she wrote a bunch of boring companion novels. Keira Cass aside, companion novels are often disappointing because they're about characters that no one cares about. Since I did care about Levana, the book had some good things going for it:
Reasons for Levana's behavior without making excuses.
Drunken Channary. Seriously, the entire book all she did was loose her pants and drink.
Learning more about how Levana was injured. "Come here baby sister." *sadistic laugh*
MY IKCLE BABYKINS!!!!!!!!
When I's says "ickle babykins", I mean every adorable moment where you read about the Lunar Chronicles peeps as babies!!!! Like when it mentions that little Jason tries to teach baby Cinder and Winter to play hide and seek and they couldn't do it. Or at the birthday party when they couldn't blow out the candles, so Jacin got impatient and did it for them. My favorite is probably when Winter asks Evert (her father) why Doctors don't rescue princesses in the story he was reading her, because LITTLE JACIN WANTED TO BE A DOCTOR!!! See, there are whovians everywhere.
And let's not forget that adorable moment when Channary is looking at a picture of baby Kai and is all, "He might make a good husband for my daughter." My only problem is that they had no baby Carswell because he is my soulmate and I DON'T CARE THAT IT DOESN'T FIT THE PLOT LINE! Oooook deep breaths. If you can identify with this gif, then you get how I feel.
Some of the things that I didn't like about Fairest were some of the characters. Namely, an unimportant someone named EVERT. I hated him. I get that without him there was no story, but he still ticked me off. I wanted more Solstice and less dramatic moments with Levana and Evert. Is that too much to ask? Probably. Since the book is supposed to be about Levana and not about Winter's backstory. Oh well. The last thing I adored about Fairest was how they made Channary evil. And how she died was super hilarious. *SPOILER ALERT* Soooo if you're interested about Levana, I'd totally recommend giving Fairest a read. Now some lovely things to consider before you go.
You could comment and we could have a bonding conversation about our love of the Lunar Chronicles. I'm just sayin'!
If you like to laugh at stupidly funny things, check out studio c. You won't be sorry. (That is until you're out watching them in a public place and you start laughing hysterically and people look at you like you're crazy.)
3. This gif.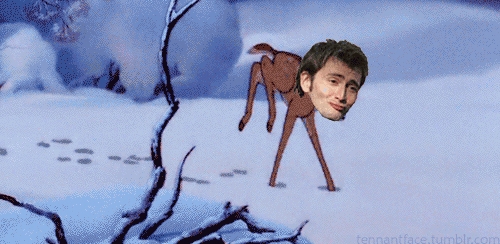 Allons-y!!!